Let's face it, summer is the perfect time to flaunt your natural curls. With the humidity at the beach, outdoor parties, and BBQs, getting a sleek blowout just does not make good sense. Instead of battling frizz and fly-a-ways, lock down your wash & go or twist out with these products.  Read on as I share some of my favorite products to help you achieve curl-perfection all summer long.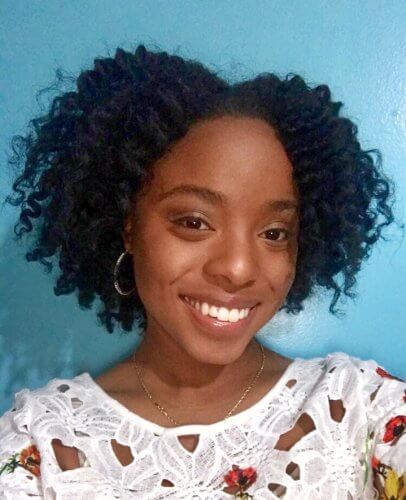 Great curls start before you shampoo. Begin with a pre shampoo conditioning commonly referred to as a "pre-poo". This crucial step helps to strengthen, moisturize and nourish hair.  An effective pre poo treatment can last anywhere from 15 minutes to overnight — it really is your preference. Great options for pre poo includes:  coconut oil, castor oil and olive oil.  Feeling adventurous? Mix all three and saturate your hair and massage into your scalp.  Cover with a plastic cap and sit under hooded dryer for 15 minutes or simple wait for 30+ minutes without applying heat.
After your  pre-poo, follow with Curls Blueberry Bliss Reparative Hair Wash ($14.99). This moisturizing shampoo hydrates curls while cleansing the scalp gently.
After shampooing, follow up with a nourishing conditioner like the NaturaBrasil Murumuru Reconstructive Hair Mask ($25). Made from Murumuru butter native to the Amazon, it helps to repair damaged, bleached, dry or coarse hair by creating a protective seal that controls frizz, restores softness while adding sheen. With the conditioner in your hair, now is the time to DETANGLE! Separating tangles before styling is key for great curl definition. A wide tooth comb is ideal because it's gentle on the scalp, reduces split ends and also helps prevent breakage.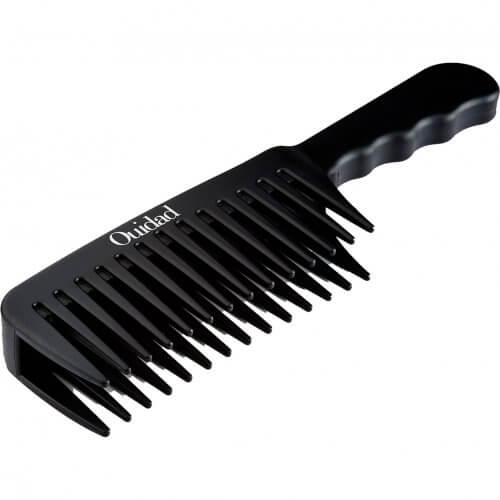 My absolute favorite is Ouidad's Double Detangler Comb ($26). It works really well because it has two rows of teeth…so it separates hair with less strokes and damage. With this comb I'm able to detangle my ENTIRE head of thick curls in less than 10 minutes. Yeah you read that right, less than 10 minutes!  From waves to super kinky coils, Ouidad Double Detangler Comb gets the job done. Another plus, it also works well on dry hair.
After conditioning, apply a small amount of virgin coconut oil to soaking wet hair (any brand works). This step seals in moisture and also helps other products apply smoother. Next, wrap your hair with an old t-shirt to get rid of some of the water, instead of using a towel which can cause frizz. Next, apply your favorite leave-in conditioner. Right now, I'm obsessed with Blueberry Bliss Reparative Leave-In Conditioner ($11.99). Not only does it smell incredible, but it's also very light and super moisturizing. A little goes a long way!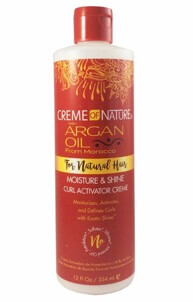 Now, it's time to style! For summer, I love a good wash & go and or a twist out.
For a wash & go, apply a moisturizing curling cream like the Creme of Nature Moisture & Shine Curl Activator Creme ($7.99). This product will define and smooth your curls while fighting frizz.
Follow with a conditioning gel for extra hold, like Eco Styler Coconut Oil Styling Gel ($12 for 16 oz). This gel does not flake, has UV protection and is made with 100% pure coconut oil which helps your scalp attract and hold in moisture. A weightless styling gel, it leaves curls bouncy and shiny.

For naturally loose curls, try the Organix Quenching + Coconut Curls Moisture Mousse ($7.99). The blend of coconut oil, honey and citrus oils help to enhance curls and tame frizz. Set your look with a diffuser on low heat (if you're in a rush and prefer not to air dry).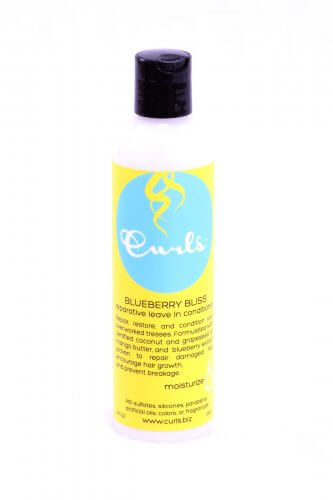 For my favorite summer style, the twist out, use a curling creme like the Creme of Nature Moisture & Shine Curl Activator Creme ($7.99) or Blueberry Bliss Twist N Shout Cream ($15). Both products adds sheen, moisture and definition — ensuring you achieve a bomb twistout every time.