All dermatologists agree that sunscreen is a must for everyone who's exposed to the sun's rays. Though frequently recommended, not everyone uses sunscreen…and the reasons they don't use vary from they don't think they don't need it (Black women, I'm looking at you) to they can't find one that works for their sensitive or problematic skin.  Whatever the reason for avoiding sunscreen, this post will help quiet your fears, and guide you to the best product for healthy, protected skin…
Before I dive into product recommendations, I feel I must talk about the two most common sunscreens types, as well as break down the different levels of SPF.
Physical Sunscreen
Physical sunscreens are generally formulated with zinc oxide and/or titanium dioxide. (If a sunscreen is listed as "All Natural," it contains physical blockers.)  They work by blocking the sun's rays and are effective as soon as you apply them to your skin. They also work to block UVA rays and UVB rays. Both UVA and UVB rays damage the skin. However, UVA rays penetrate deeper into the skin while UVB rays are generally what's responsible for your sunburn. Depending on the formulation, physical blockers tend to leave a white, grayish or purplish cast on darker skin. Though, with some of the latest formulations, the minerals have been micronized, so the end product can be quite sheer.
Chemical Sunscreens
Chemical sunscreens contain a combination of ingredients that absorb the sun's rays.  And depending on the formulation, chemical sunscreens can also provide protection from UVA and UVB rays. When using chemical sunscreens, we are advised to apply at least 20 minutes before sun exposure….that's so the product has an opportunity to 'activate.'  Chemical sunscreens can include several of the following ingredients: avobenzone, oxybenzone, octisalate, octocrylene, homosalate and octinoxate.  Chemical sunscreens can be more irritating simply because they contain more active inorganic ingredients than physical sunscreens.
SPF Recommendations
SPF stands for Sun Protection Factor. Most of what you see on shelves is SPF 15 or higher.  Dermatologists recommend between SPF 15 and SPF 30.  Don't be conned, SPF 30 doesn't provide twice as much protection as an SPF 15.  In fact, it only provides 4% more protection.  SPF 15 blocks 93% rays, SPF 30 blocks 97% of rays and SPF 50 blocks 98% of UVB rays. No sunscreen blocks 100% of the sun's harmful rays.
If you've stayed with me throughout these sunscreen definitions, then you are really interested in finding the right sunscreen.
Sunscreens  for All Skin Types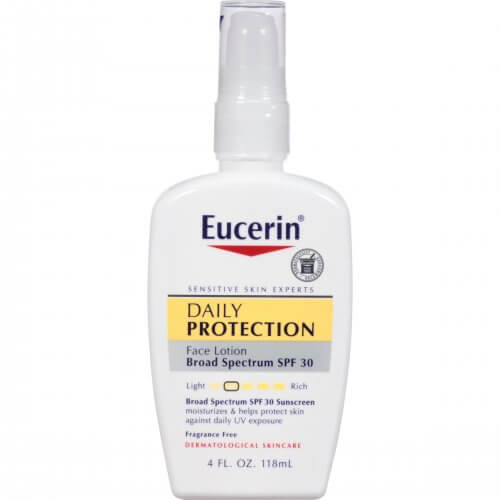 Eucerin Daily Protection SPF 30 Face Lotion –   is a lightweight fragrance free formula that works for even those with sensitive skin.  It contains physical blockers so may not be ideal for darker skin. tones.  Best for Fair to medium skin tone. ($7.89)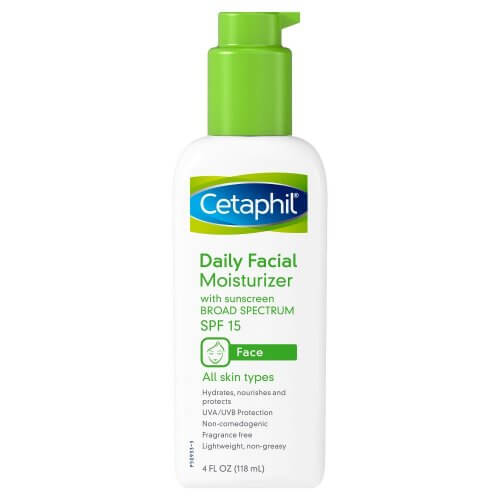 Cetaphil Daily Facial Moisturizer with SPF 15 – hydrates, nourishes and protects with a combination chemical sunscreens. Best for All skin tones ($11.79)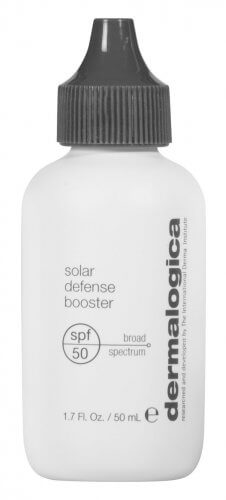 Dermalogica Solar Defense Boost  – use it alone or add it to your favorite oil free moisturizer or foundation. It contains a mix of chemical blockers that provides SPF 30 when mixed in equal parts with your favorite product. Best for All skin tones. ($53)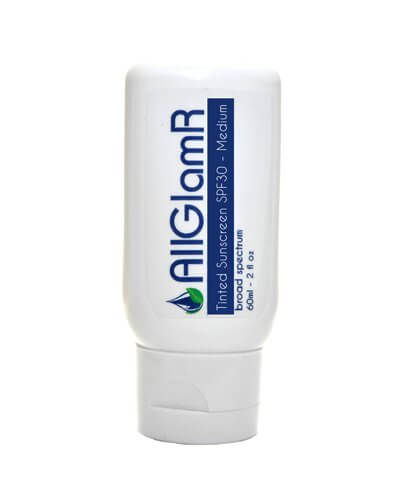 AllGlamR Tinted Sunscreen SPF 30 — this tinted moisturizing sunscreen is available in two shades, light and medium. The medium goes on sheer on my dark skin but I don't think it would work on skin darker than mine. Best for light to medium dark skin tones ($38.25)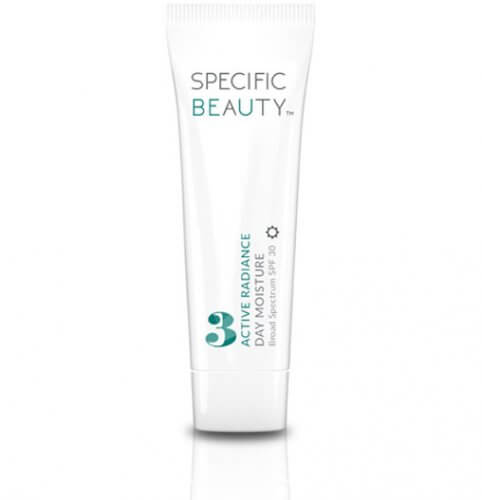 Specific Beauty Active Radiance Day Moisture Broad Spectrum SPF 30 –  a daily antioxidant rich moisturizing SPF that provides broad spectrum coverage. Emblica fruit extract, licorice and niacinamide work together to help prevent hyperpigmentation and balance the skin. Best for All skin tones. ($40)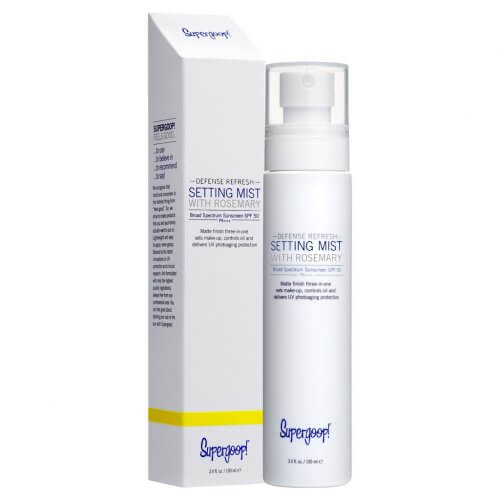 Supergoop Defense Refresh Setting Mist Broad Spectrum SPF 50 – perfect for spritzing over your makeup, this on-the-go SPF is water and sweat resistant for up to 40 minutes. Best for all skin tones. ($28)
Sunscreens for Combination/Oily Skin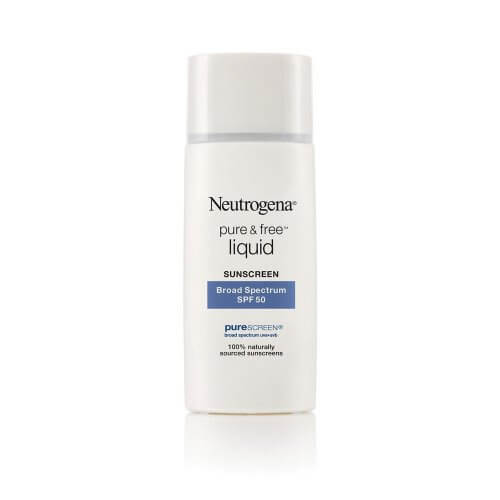 Neutrogena Clear Face Liquid Lotion Sunscreen Broad Spectrum SPF 55 – formulated to provide broad spectrum sun protection to oily acne prone skin. It quickly absorbs into skin leaving a semi matte finish.  Best for All skin tones. ($11.99)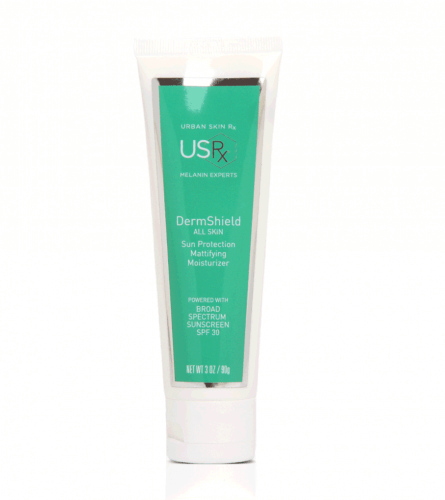 Urban Skin RX DermaShield — though formulated for all skin types, I like this on my oily skin.  It is a combination of chemical and micronized physical blockers that go on sheer. It also provides a temporary mattifying effect. Best for all skin tones. ($28)

Dermalogica Oil Free Matte SPF 30  – contains caffeine, niacinamide, biotin and yeast extract to help regulate oil production and soothe inflammation. It's a creamy, quick absorbing formula that leaves behind a semi matte finish. Best for All skin tones. ($52)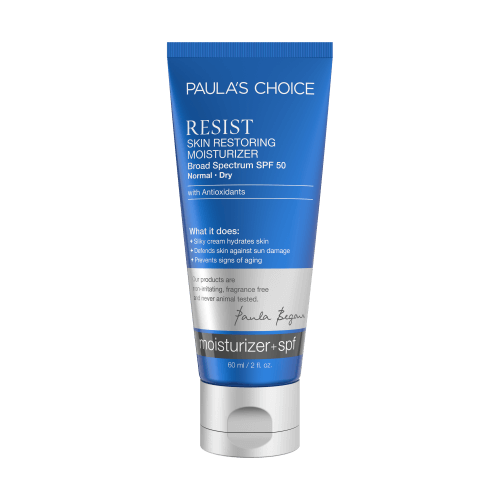 Paula's Choice Resist Skin Restoring Moisturizer – a broad spectrum SPF 50 with a moisturizing yet slightly powdery feel.  It's loaded with antioxidant rich botanical extracts to help nourish and protect skin. The packaging says normal to dry skin but after using it, i think it works great on normal to oily skin.  Best on all skin tones($33)
Sunscreens for Sensitive Skin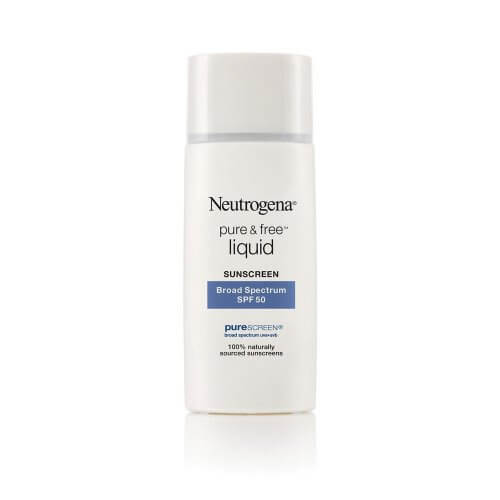 Neutrogena Pure & Free Liquid Sunscreen Broad Spectrum SPF 50 – is a waterproof weightless liquid formulated without oils or fragrance.  It is a physical sunscreen but blends well into skin. Best for Fair to Medium skin tones. ($12.99)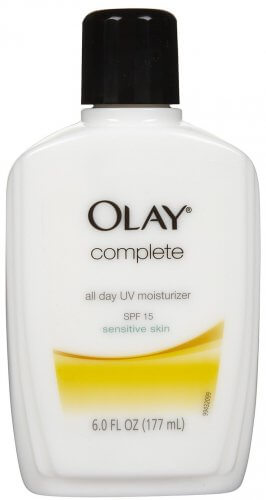 Olay Complete All Day UV Moisturizer SPF 15 Sensitive Skin – is a broad spectrum lightweight, oil and fragrance free daily moisturizer that contains vitamin E and aloe. Best for All skin tones. ($8.99)
Sunscreens for Combination/Dry Skin
Elizabeth Arden PREVAGE City Smart Broad Spectrum SPF 50 Hydrating Shield — an emollient oil free lightly tinted lotion that contains antioxidants. It uses micronized physical blockers. Best for light to medium deep skin tones. ($68)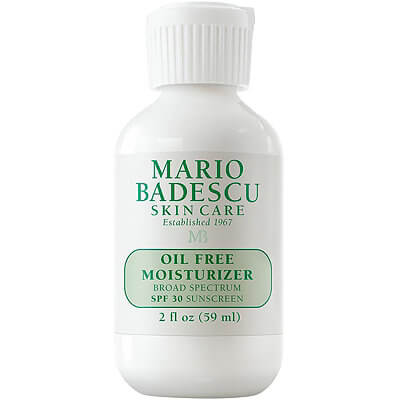 Mario Badescu Moisturizer with SPF 30 – contains green tea extract, aloe vera, St John's Wort  an other botanicals. It is a lightweight lotion that packs a lot of moisture. Contains chemical blockers but is recommended for all skin types, including sensitive. Best for all skin tones. ($28)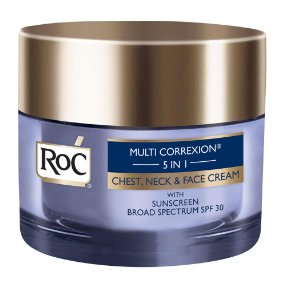 ROC Multi Correxion 5 in 1 Chest, Neck and Face Cream — this SPF 30 moisturizer is a complete anti-aging treatment from the chest up. It packs lots of moisture without a greasy feel.   Best for all skin tones. ($27.99)
Sunscreens For the Body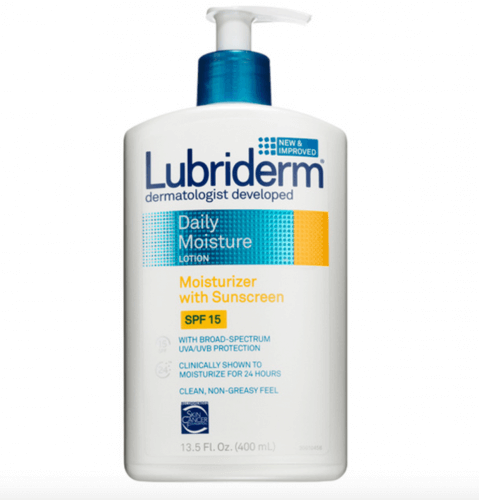 Lubriderm Daily Moisture with Sunscreen – a lightweight lotion that is clinically shown to moisturize for up to 24hours.  It contains chemical blocker so goes on sheer. Best for all skin tones. ($5.99)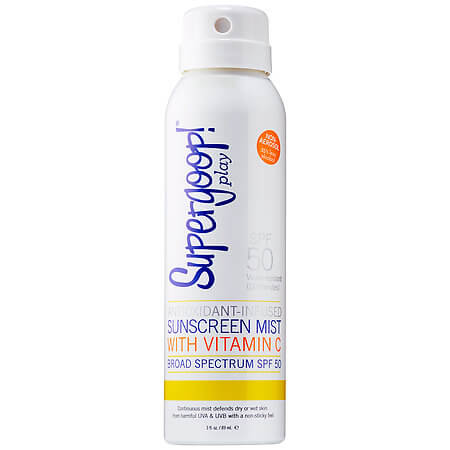 Supergoop Antioxidant Infused Sunscreen Mist – can be applied to wet or dry skin and  is water resistant for up to 80 minutes. Best for all skin tones. ($13)