Summer can bring the best and the worst out of our skin. You gotta love that summer glow, but at the same time you may be asking yourself, "why is my skin so dang oily?". Glow or not, no one wants to walk around looking like a grease ball. (I just had a flash back of when my mom used to rub the remaining hair grease from her hands all over my face after doing my hair.  Sigh!) If I only knew then what I know now …speaking of what I know now, here are 5 Tips to Combat Your Oily Skin.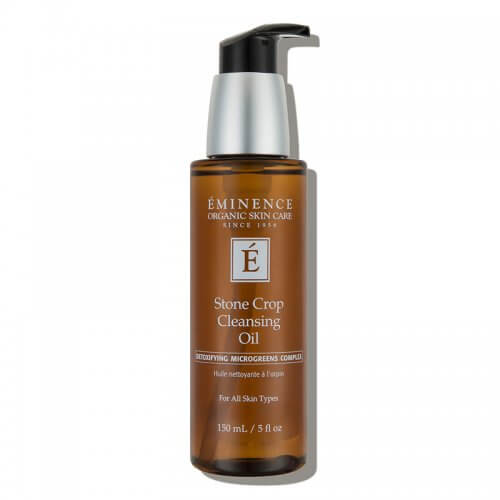 Cleanse properly. Washing your face is the first, best, and most important step when treating oily skin. The key is to make sure you do not over cleanse your skin by using a harsh soap or foam based cleanser. Since oil begets oil, try using an oil based cleanser such as

Eminence Organics Stone Crop Cleansing Oil ($52)

or

Shea Moisture's Sensitive Skin Facial Cleansing Oil

($9.99)

.

Use a toner, such as

Mario Badescu's Cucumber Cleansing Lotion

($15)

. This refreshing toner is packed with amino acids, minerals, and vitamins that minimize oil production from your skin's sebaceous glands. What are those, you ask? Just know this toner gets in there and cleans deep into your pores. You can use this daily, and even add a little to a travel sized spray bottle and carry with you, so when your skin needs a little refresher you can spray and keep it moving. Or, try

Mario Badescu's Rose Water facial spray

($7).
Try an oil free moisturizer.  No need to add extra oil to your skin's natural oil production. Especially during the summer months when we tend to produce more oil anyway. And yes, even with oily skin, you still need a moisturizer. The biggest misconception is that when you have oily skin, you don't need any moisturizer. But you do! When your skin is properly moisturized it minimizes the amount of oil it produces. When you put on moisturizer you're basically telling your skin, "I got this, no need to over-produce". My go-to is

Neutrogena's Oil-Free Moisturizer

($12)

.
Always use SPF! While this may seem counterproductive, sunscreen actually helps control oil and shine. And of course, protects your skin from harmful UV rays. Check out Christene Carr's post on

"Sunscreens For All Skin Tone, Skin Types And Budget"

. You'll have no excuse not to have a sunscreen.
Go all Alicia Keys and embrace your natural beauty. Try going makeup-free a couple of days per week to let your skin breath. I'm all about enhancing my beauty with makeup, but nothing beats rocking my natural glow. With the right skincare routine, your skin may even look better than it would with makeup.